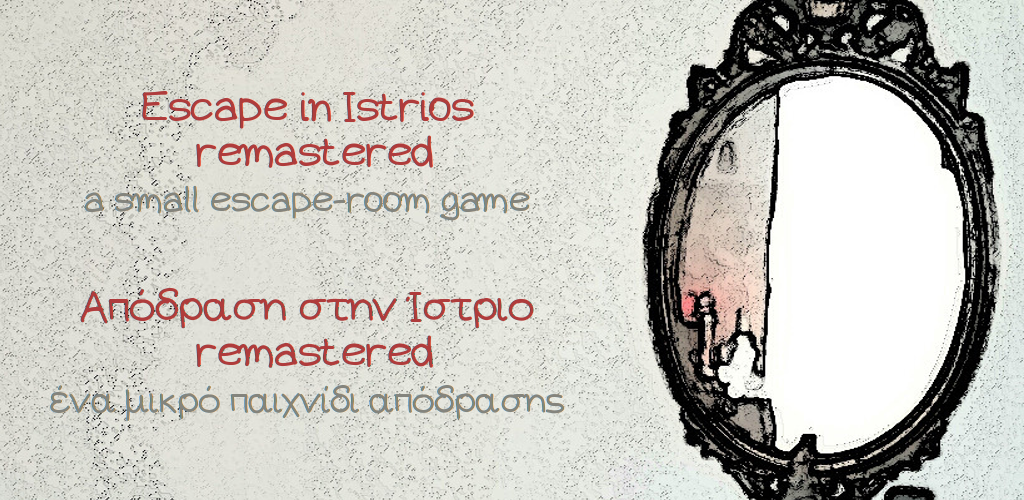 Escape in Istrios remastered
Finally, the international version of the game is ready! The user will be asked to choose between English or Greek language at the beginning, while there is a possibility for change within the game. Also, the game engine was improved and some additional puzzles were added.
Have fun and happy 2021!
Επιτέλους, η διεθνής έκδοση του παιχνιδιού είναι έτοιμη! Ο χρήστης θα κληθεί να επιλέξει ανάμεσα στην αγγλική ή την ελληνική γλώσσα στην αρχή, ενώ υπάρχει δυνατότητα για αλλαγή εντός του παιχνιδιού. Επίσης, η μηχανή του παιχνιδιού βελτιώθηκε και προστέθηκαν επιπλέον γρίφοι.
Καλή διασκέδαση και ευτυχισμένο το 2021!
Files
Escape in Istrios remastered Debian 1.3.2-amd64.deb
82 MB
16 days ago
Escape in Istrios remastered Setup 1.3.2-win64.zip
77 MB
16 days ago
Get Escape in Istrios remastered